Cathedral Gorge, located within the Bungle Bungle Range in Purnululu National Park is a large natural amphitheater formation which is located toward the end of the gorge. The amphitheater is a huge concave structure that produces amazing acoustics due to its shape. The red rock of the gorge rises high above creating shade and its own climate inside the canyon.
Walking Trail
To visit Cathedral Gorge there are a number of ways. You can drive into Purnululu National Park by 4wd and park at the Cathedral Gorge carpark, or fly from Kununurra with Scenic flight operator Aviair and complete a guided tour with Bungle Bungle Guided Tours. Cathedral Gorge Tours are a very informative experience, as you will be led by a knowledgeable tour guide through-out the bus tour and the ground component. Your guide will give in an insight into the indigenous history of the area, the native flora and fauna of the region and the formation of the unique Bungle Bungle.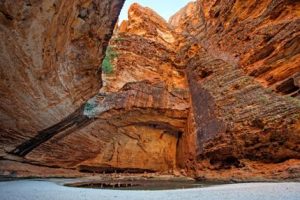 The walk into Cathedral Gorge is approximately 4km return, which can take up to 2.5 hours as there will be many photography stops and a decent amount of time spent admiring the natural amphitheater formation at the end of the gorge. The track into Cathedral Gorge is relativity flat with mostly solid ground, this trail is appropriate for most walking abilities as there is minimal up and downs.
It is advised to carry a minimum of 3-4 litres of water whilst walking into Catherdral Gorge, as the warmer environment can make you dehydrated at a much faster rate than normal. Other essential items to take with you on the walk is sturdy shoes, sunscreen, hat and camera. The walk is open during the dry season which starts in April and generally closes around mid-October. It should be noted that there are no pets permitted into Purnululu National Park as well as an entry fee.
Cathedral Gorge in the Wet Season
Generally, due to the amount of rain and therefore the lack of accessibility into the National Park during the wet season, the park is closed to the public. Though towards the end of the wet season, certain circumstances may allow some access to the park and see it as very few have witnessed it before. There is sometimes the opportunity to take a helicopter flight and see the generally dry riverbeds, in full flow and amazing cascading waterfalls.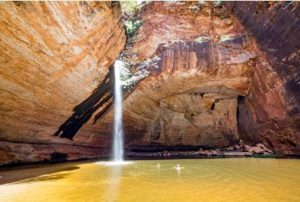 For more information about Cathedral Gorge and doing a guided walk, visit Bungle Bungle Guided Tours or call 1800 899 029