We know what you're thinking, I don't have the time… the Kimberley is too far away… maybe we'll do it the following year… However, life is short and often the best time is, now! There is nothing that compares to exploring some of the country's most spectacular locations on foot. If you are thinking of undertaking an Australian walking holiday, then don't delay any further. Bungle Bungle day tours can be the perfect way to get a real feel for the unique landscape of Purnululu National Park.
The landscape of Purnululu is said to be 350 million years old, quite hard to fathom. The Aboriginal people have inhabited this area for an incredible 40,000 years old. These numbers certainly put things into perspective, considering that the Australian government was only formed just over 100 years ago.
There is a certain feeling you get when walking through the Bungle Bungle domes, one that can't be explained unless you experience it for yourself. The national park is open from April-October which is dry season in the Kimberley region. This means it can sometimes reach temperatures below zero overnight, with beautiful days around 25-30 degrees during the day in the middle of the year. The air is clean, the sky is blue, there are ever-changing scents of the native bushland and plants, with birds and small animals going about their daily businesses. Looking up and seeing the spectacular sandstone formations is like nothing else. You will feel dwarfed under the sheer size of this amazing view.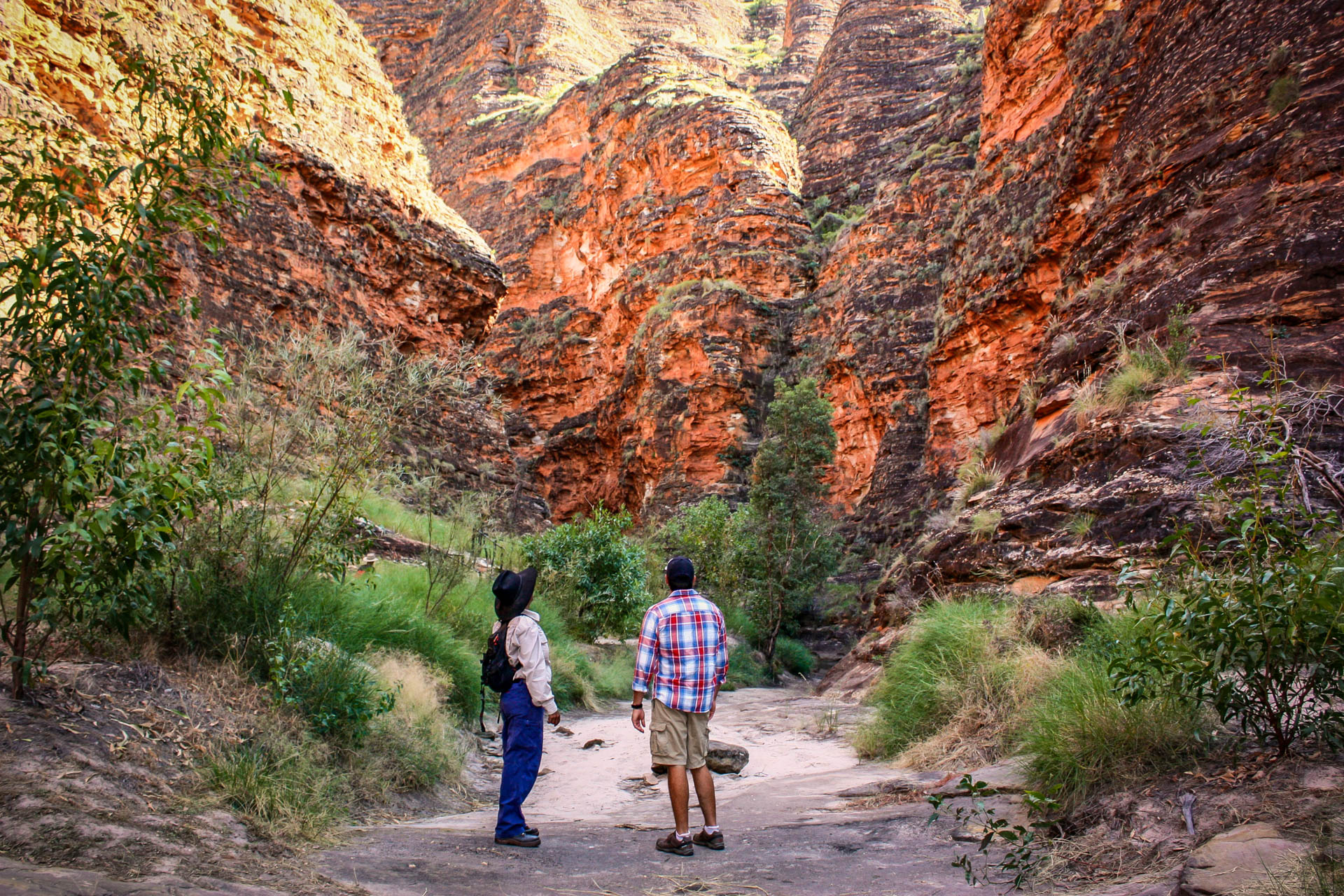 We often receive feedback from our guests who have travelled all over the world, that visiting Purnululu National Park is one of the best experiences they have ever had. Taking this into consideration, we are confident to highly recommend a visit to explore the Bungle Bungle Range. We have a range of tours on offer that explore both the southern and northern end of the national park. Cathedral Gorge, the Domes and Picaninny Creek are locations we visit at the southern end. Whilst the northern end's landscape differs greatly, with the impressive Echidna Chasm reached via the Western Wall.
So if you are in the stages of dreaming, researching, planning, or booking, there's no need to doubt your decision if you're thinking about heading to the Kimberley. This is a decision that we have never heard anyone say that they regret. It creates excitement and happiness in the countdown to holiday time, as well as some of the best memories you will have to keep forever.
Bungle Bungle day tours are a great way to learn about the ancient history of Purnululu National Park.
Visit this page to find out more: https://www.bunglebungleguidedtours.com.au/tours/